How the NCAA United Trump's America
Plus: The statutory legacy of "student-athlete" and why Sonny Vaccaro isn't celebrating anything yet.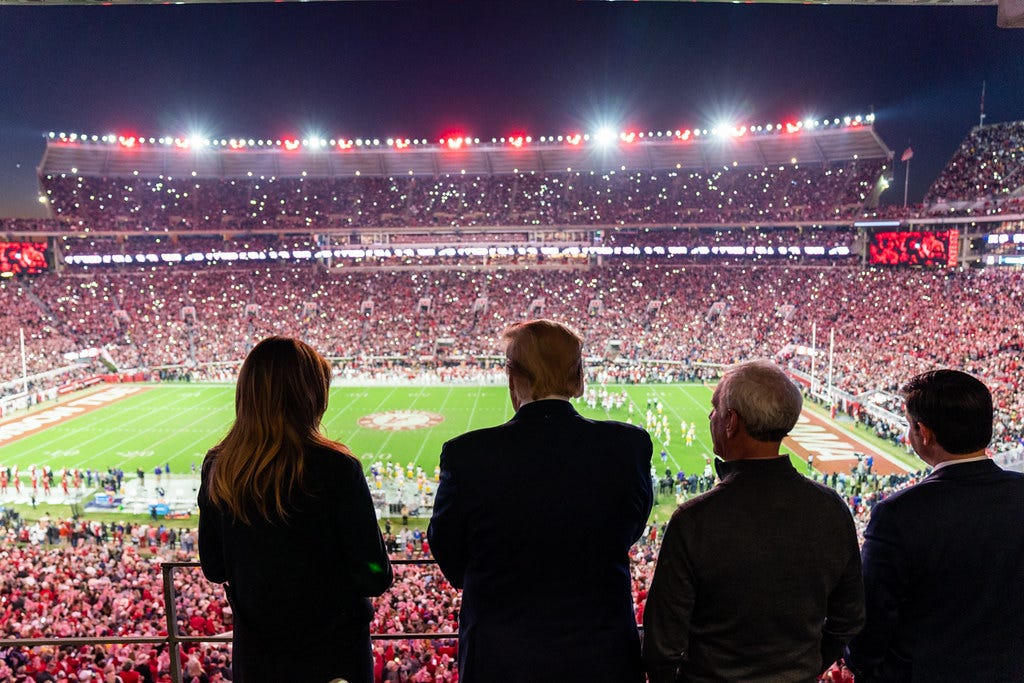 ---
This is Newsletter of Intent, a free weekly emailed dispatch from The Intercollegiate. To learn more about us visit www.theintercollegiate.com.
Subscribe to the weekly Intercollegiate Podcast.

Scroll to the end to learn about our creative partner, the College Sport Research Institute.
Ready to commit to your college sports education?
---
By Daniel Libit and Luke Cyphers
In the late summer of 2015, John Kasich, the former governor of Ohio, was polling in the low single digits nationally in the Republican presidential primary, in as desperate need of a campaign boost as any of the frantic challengers dog-paddling in Donald Trump's wake.
Kasich's North Carolina co-chair had an idea.
Bob Orr, a former state Supreme Court justice, had noted that the college football season would be kicking off in short order with an ESPN-televised clash between North Carolina and South Carolina at Bank of America Stadium in Charlotte. This, he thought, made for a perfect political backdrop.
"You had two important primary states that are going to be intensely focused on that game," Orr tells Newsletter of Intent. While presidential candidates have long found opportunities to pay lip service to the home-state team, Orr's idea was for Kasich to come to Charlotte the weekend of the rivalry and hold a press conference on what's wrong with college sports.
"I thought it was a way to separate Kasich a little bit from the crowd, talking about something dramatically different but which I though the broad voting public was interested in," Orr says.
Orr's political intuition wasn't merely speculative. Since retiring from the bench in 2004, and losing a GOP gubernatorial primary bid two years later, he had begun representing a handful of college athletes in eligibility battles against the NCAA. He found that people actually cared about this stuff.
"I would get more questions about my work representing players against NCAA as opposed to my any other experiences as a supreme court member or litigating other issues," Orr says. "I thought it was a great opportunity."
He knew that Kasich was a big sports fan, and he knew that there were plenty of well-founded criticisms the candidate could marshal.
"Kasich didn't necessarily have to come swinging at the NCAA," Orr says, "but simply pointing out in the venue this range of issues that people needed to be talking about, needed to be addressed — and again, he was getting very little national attention, with everybody talking about the same thing."
Failing to make headway, Orr eventually pitched his idea to John Weaver, Kasich's senior advisor (and "a big Texas A&M guy") over Twitter direct message.
The campaign's response?
"Crickets," according to Orr.
(Kasich and Weaver did not respond to requests for comment.)
Kasich eventually ended his campaign in May 2016, but not before landing the endorsements of the five most recent Ohio State football coaches and taping a campaign ad with Urban Meyers that hasn't aged well:
Orr, a Republican National Committee delegate, made headlines when he was booted out of the GOP presidential convention after vowing not to vote for Trump in the general election.
Now, three years into Trump's first term, those political crickets are furiously rubbing their wings over college sports. Pay-the-players initiatives are igniting across the country, with California's name, image and likeness law just the start. Over the next year, at least a half-dozen other states, and the U.S. Congress, are likely to be debating legislation that attacks the NCAA's outdated amateurism rules. And the most striking aspect of this sudden, nation-wide movement is its bipartisan character. The efforts are being pushed as hard by rock-ribbed conservatives as they are by West Coast liberals.
"That has been one of my problems," Orr jokes. "I have always been ahead of my time."
FROM BOTH SIDES NOW
In a column last week, the Washington Post's Sally Jenkins put her finger on "the rare political" harmony that has been created by college sports' pigheadedness.
Writing in the Los Angeles Times in March, Patrick Hruby, an Intercollegiate "Unpaid Labor" contributor, previously noted how abrupt this bipartisan recalibration has transpired:
Taken together, the various legislative efforts represent a significant departure from the sympathetic treatment the NCAA and its member institutions historically have received from lawmakers.

In 2015, Georgia made it a crime, punishable by up to a year in prison, to entice college athletes to break NCAA rules for money. Support for what was called the "Todd Gurley Law" stemmed from an incident in which Gurley — a former University of Georgia football star who plays for the Rams — was suspended for four games by the NCAA after allegedly receiving cash for autographing sports memorabilia.

Similarly, state legislatures in Michigan and Ohio responded to a 2014 unionization effort by Northwestern football players — an effort the NCAA opposed — by passing or rewording laws preventing athletes at state schools from unionizing.
That's suddenly changed.
Russian aggression couldn't do it. School shootings couldn't do it. Infrastructure couldn't do it. But the NCAA, somehow, has brought Donald Trump's America together. How did this happen? Eliciting the Beltway wisdom of Purple Strategies, the bipartisan political consulting shop, Jenkins credits the NCAA itself.
"It's a body that has become so universally offensive to the nose that even politicians on the opposite poles have formed a consensus against it," she writes.
"According to Purple's managing director of reputation strategy, Robert Fronk, once the public suspects an organization's motives don't align with its mission, 'we often see a rapid decline in the public seeing that organization as indispensable.'"
Is that it? Is it simply that the governing organization of major college sports is so risible that it has simply overcome America's partisan default setting?
Surely, it has provided plenty of reasons to be nationally loathed — the NCAA's potent blend of sanctimony and hypocrisy reaches deep into the nasal cavity. And yet, there are plenty of unpopular institutions that fail to rouse both ends of the political spectrum. What makes this different?
"I think there are so many components to the issue that fit into both the Republican and Democrat wheelhouse," says Orr. "You have the free-market concept that I think deals to Republicans; you are talking about a multi-billion-dollar industry. There is obviously a large racial component, that appeals to the Democratic side. You have a real cross-party interest in higher education, that we are supposed to be providing quality higher education."
While Kasich never ended up stumping on college sports, another 2016 Republican candidate did take it up. Well, an almost-candidate.
David French, the National Review columnist who was briefly floated as an eleventh-hour "Never Trump" spoiler, wrote an essay in April 2016 decrying the college sports world as a "progressive-dominated urban enclave" exploiting the labor of its minority underclass.
French unfavorably compared the NCAA to the city of Chicago and urged the political right to claim this mantel of reform.
"[C]onservatives should be leading the charge against NCAA exploitation and hypocrisy," French wrote. "It is antithetical to free-market values. It allows a progressive cultural elite to exploit minorities by adopting fashionably liberal positions. And it helps prop up America's corrupt, bloated, and discriminatory higher-education system."
WHAT THE BATHROOM BILL WROUGHT
While California gets credit for adopting the first piece of anti-amateurism legislation, Orr's home state of North Carolina might be where the spark for the issue first kindled into the fiery reform efforts — the impetus coming from an entirely unrelated realm: the commode.
In March 2016, North Carolina's Republican-controlled legislature passed House Bill 2 (HB2), which required transgender people in public or government facilities to use the bathroom that corresponded to the gender on their birth certificate. In the ensuing national uproar, a number of national corporations and organizations threatened to boycott the state, calling the legislation discriminatory. That August, the NCAA announced that, due to HB2, it was going to exclude North Carolina from consideration as a future host for the men's and women's basketball national championships.
The NCAA's pressure campaign was widely credited for leading to the partial repeal of HB2 in April 2017, but it also infuriated some GOP lawmakers, who then sought revenge against an organization they argued was unduly meddling in their politics.
Shortly after the NCAA's boycott, Orr says he got a call from a Republican legislative staffer with this solicitation: "I understand you hate the NCAA. Do you have any suggestions for legislation we would use to poke them in the eye?"
Orr told him that he had an idea for a proposed study commission. He "knocked out about 10 or 12" bullet points and sent it to the staffer. Shortly thereafter, the state legislature established The Commission on the Fair Treatment of College Student-Athletes. "I assumed that this was going to go nowhere," Orr says. "But they introduced the legislation to (create) the commission that was virtually identical."
Despite its score-settling origins, the commission, chaired by the state's conservative Lt. Gov. Dan Forest, proved to be a deeply substantive platform for exploring the multitude of problems in college sports. Experts and advocates from North Carolina and around the country began testifying last fall. Ramogi Huma, the executive director of the National College Players Association, and Andy Schwarz, the anti-trust economist and NCAA critic, flew in from California.
David Collins, a former UNC football player who hails from a staunchly conservative GOP family, spoke of his career-ending ankle injury in advocating for better medical protections and coverage for college athletes. Jay Allred, publisher of a local golfing magazine, and his daughter Victoria, a former East Carolina University golfer, spoke about the mental and physical toll she faced in recovering from a sports-related back injury.
Orr, for his part, testified about the college athletes he had represented, arguing that they should have a Constitutional right in North Carolina to be compensated for their on-field endeavors. The legislature produced a final report containing a number of broad-sweeping reforms that materialized in a piece of legislation, Senate Bill 335.
The North Carolina movement has created space for conservatives in other states, such as Washington and Colorado, to pursue California-style reforms, and inspired action at the federal level.
In March, another North Carolina Republican, Rep. Mark Walker, a former three-sport collegiate athlete, introduced federal legislation that mirrored California's bill to allow college athletes to earn money off their name, image and likeness. Walker's co-sponsor was Democratic Rep. Cedric Richmond of Louisiana. And last month, Rep. Anthony Gonzalez (R-Ohio), a former star wide receiver at Ohio State, announced he would propose House legislation providing additional "guardrails" to college athletes' NIL rights.
The political jostling is evidence that the old truism about politics making strange bedfellows might still apply, even in these hyper-partisan times. And it is definite proof of another hoary cliche: Timing is everything.
"Sometimes there is a time to launch and a time not to launch," says former Rep. Charlie Dent, the Pennsylvania Republican who twice introduced an NCAA reform bill, to no avail, in 2013 and 2015. "Looks like there are no clouds over the launch pad now."
LANGUAGE OF THE OPPRESSOR
One thing that makes us cringe slightly about laudable legislative efforts to allow remuneration for college athletes is how frequently the term "student-athlete" pops up in these bills.
It's used in California's freshly signed name-image-and-likeness law, which beginning in 2023 enables players to profit off their athletic fame through endorsements and sponsorships. In fact, the bill's title is "The Student-Athlete Bill of Rights."
It's used in two Illinois bills, one giving athletes NIL rights, and another allowing them to sign with an agent. It's also in bills in Florida, New York and North Carolina. The only introduced bill we've noticed that does not use the term student-athlete is in Washington state, which uses the term "student" throughout.
Why does this matter? Because the term "student-athlete" is a loaded one, made up by the NCAA in the 1950s in an effort to stave off a legal threat. As former NCAA President Walter Byers confessed in his 1995 book, Unsportsmanlike Conduct: Exploiting College Athletes:
That threat was the dreaded notion that NCAA athletes could be identified as employees by state industrial commissions and the courts. We crafted the term student-athlete, and soon it was embedded in all NCAA rules and interpretations as a mandated substitute for such words as players and athletes.
(By the way, last month marked the 35th anniversary of former TCU player Kent Waldrep's grave on-field injury, which became the basis for a landmark ruling about workers comp decided in the NCAA's favor.)
To use the NCAA's term in reform efforts may sound trivial, but it's wording the NCAA has used to groom the public for decades now in service of removing athletes' rights—namely, the right to be paid, with money, for their labor and skills.
Such linguistic gymnastics has long been part of the NCAA legal and public-relations playbook, as Andy Schwarz told us. "The NCAA uses language extremely insidiously, in ways that frame the debate in advance to their advantage," Schwarz says. "If you've ever read anything by the linguist George Lakoff, you'll understand how saying things like 'NCAA legislation' (when they are not a governmental body at all and so cannot pass 'legislation') can precondition people to think of something the NCAA does has the force of law, and thus violating NCAA rules is 'illegal' when it's not."
And Lakoff himself, when reached by email, agreed. "This is, unfortunately, a normal occurrence because of how the brain works, having nothing to do with laws or regulations," Lakoff tells us. "The very use of the terms NCAA 'legislation' or 'regulation' evokes a frame in which the what the NCAA does has the force of law, at least within the NCAA."
So as harmless as it may seem, when legislators use the term "student-athlete," they're using an NCAA framing device that's been successful for decades in preventing the public from seeing athletes as laborers.
SONNY'S SIDE UP
In the latest episode of The Intercollegiate Podcast, Daniel talks with the godfather of grassroots hoops, Sonny Vaccaro.
Beginning in the mid-aughts, Vaccaro, long considered "the most notorious man on college basketball," began crusading against a college basketball exploitation economy that he had helped to create. Vaccaro played an essential behind-the-scenes role in assembling the Ed O'Bannon v. NCAA class action lawsuit, the inspiration of the current NIL movement. In 2015, ESPN Films produced a "30 for 30" episode about Vaccaro, "Sole Man," which captured how Vaccaro became "the most valuable marketing asset in the $13 billion athletic shoe industry."
Vaccaro, who turned 80 in September, has been less of a public presence of late, despite all the activity that has swirled around an issue he helped bring into the national conscience.
"I did that by choice," Vaccaro says, "not because I wasn't contacted or asked by people related to the California (legislation). I chose not to be because it wasn't my place…I am a magnet, one way or the other. Either you think I did something OK or you think I did something dastardly."
Vaccaro said he also didn't want people to think that the California bill was his idea.
"California did it its own," he says. "[State Sen. Nancy] Skinner did it on her own. And the people in the legislative branch voted. And then the governor goes on Lebron's [Uninterrupted] thing and Eddie [O'Bannon] shows up. This makes me smile. And the other states that are doing it make me happy. I am happy because I lived to see the birth of something maybe in fruition have children."
Some other takeaways from the conversation:
Vaccaro gives short shrift to the NCAA Board of Governors unanimous decision to "permit students participating in athletics the opportunity to benefit from the use of their name, image and likeness in a manner consistent with the collegiate model."

Says Vaccaro: "The thinking is there. The problem with the thinking is if you look back at the history of the NCAA, very few things positive for the athletes have turned out in their benefit after the thinking was over and reality set in.By saying the 'collegiate model,' they basically said, 'no.' It can't fit. You can like something, but if the suit doesn't fit, you can't wear it to the prom. This suit doesn't fit their recommendations."

Vaccaro said NIL is not the end goal of the college athlete economics rights movement, but simply "the easiest thing for the masses, for the public, to accept."

He added: "This is something a movement can be made on. Maybe in a day or two or week or two, but if you've been in this battle…it is a good step as opposed to no step."

Vaccaro never thought the Feds would be sniffing around the basketball recruiting world until the U.S. Attorney for the Southern District New York held a news conference on Sep. 26, 2017, announcing the arrests of 10 people in connection with the so-called college basketball corruption scheme.

"No, I never had an idea," Vaccaro said, adding that "the investigation was an embarrassment."

Vaccaro is working with a ghostwriter on his autobiography. He has also agreed to eventually turn over his papers to The College Sports Research Institute.
THE SEX ASSAULT RECRUITING PIPELINE
On Nov. 7, GateHouse News' investigative reporter Kenny Jacoby broke the first nugget of reporting from a much more extensive project examining the fates of college athletes who have been found responsible for sexual assault.
And it was a doozy: Bassem El Mekawi, a former Youngstown State tennis player suspended in 2015 for groping a female student, has been recently been working as a volunteer assistant men's and women's tennis coach at…Youngstown State.
El Mekawi was apparently relieved of his duties and scrubbed from the school's athletic department website just as soon as Jacoby started making inquiries. As the article notes, Youngstown State has a checkered history when it comes to this kind of thing. in 2016, the school recruited a football player, Ma'lik Richmond, who was convicted of rape as part of the Steubenville High School case. (Richmond subsequently sued the university when it held him out of competition, following complaints from other students.)
According to GateHouse, Youngstown State was recalcitrant with details and documents related to El Mekawi until the news organization lawyered up. As the story makes clear, this is not a failing in isolation:
The case highlights the ease with which NCAA athletes who have been investigated and punished for sexual assault can continue their playing careers, and in El Mekawi's case to join the ranks of college athletic staff.

Notorious for penalizing athletes who've smoked marijuana or accepted cash or gifts, the NCAA has no specific penalties for athletes found to have committed sexual assault and other violent offenses.
It should be noted that Youngstown State's president is former Ohio State football coach Jim Tressel.
Last week, we pinpointed the NCAA's feckless enforcement of its requirement that DI schools conduct end-of-year athlete exit interviews. Here's yet another example of how ethically out-of-whack, if completely expedient, the college sports canon is.
We look forward to the publication of the rest of GateHouse's reporting on this matter.
TREPANNING UNC'S CONCUSSION RESEARCH
The public outcry continues to grow over allegations that the University of North Carolina compromised its formative research data of athlete head injuries. The revelations were initially made in June, when University of Utah adjunct professor Ted Tatos and NeuroLabs CEO Donald Comrie published a paper in the Journal of Scientific Practice and Integrity, alleging that concussion researchers at UNC failed to make key disclosures of the abnormally high LD/ADHD rates and stimulants usage of incoming Tar Heel players, who were studied as part of the center's world-renowned concussion research.
Tatos' and Comrie's findings, which could have global implications, went largely ignored until The Athletic featured them last month in a story and corresponding three-part video series, "Failure to Disclose."
UNC has denied that its research was tainted or that it committed any kind of scientific misconduct. This week, a group of 250 academics (including three UNC professors) from around the country sent a letter to the NCAA, asking for the organization and its member institutions to release 20 years of data on LD/ADHD rates among college football players. Meanwhile, The Drake Group, an organization that promotes academic integrity in college sports, issued a call for an independent investigation of UNC's concussion research.
THE WISDOM OF MEMPHIS'S WISEMAN PLAY
This weekend Twitter thread from attorney and college athlete advocate Richard Johnson deservedly got plenty of attention:
In response, Bloomberg columnist Joe Nocera, co-author of Indentured: The Inside Story of the Rebellion Agains the NCAA, pointed to something worth keeping an eye on:
Johnson argues that Memphis President M. David Rudd is actually following the NCAA's rules to the letter, using the organization's oft-repeated, oft-ignored claim that university presidents hold the power for disciplinary action. Usually, the institutions blindly follow NCAA "recommendations," so much so that these suggestions become diktats.
That's what Ohio State appears to be doing in case of star defensive end Chase Young, despite the fact that Young's "transgression" is on its face less fraught than the Wiseman situation. As first reported by The Athletic's Bruce Feldman, Young borrowed money from a non-booster to fly his girlfriend to the Rose Bowl, then paid the money back in April.
The debate over Wiseman is slightly murkier, with the NCAA labeling Memphis coach Penny Hardaway "a booster" because he donated money to his alma mater—a label Johnson convincingly argues does not apply, but one that plenty of fans eagerly embrace.
Ohio State says it "has Young's back," and the school does appear to be standing behind him—letting the player absorb all the fire while sitting him out of this past Saturday's game against Maryland. (On Monday, CBSSports.com reported that OSU planned to send a written report this week to the NCAA, seeking the Heisman Trophy candidate's reinstatement.)
Memphis, meanwhile, went to court and is defiantly allowing Wiseman to play.
Why the different responses? Surely, there must be something to the fact that OSU President Michael Drake and Athletic Director Gene Smith are currently ensconced in NCAA high society. You don't get invited to the fancy boardroom by making mischief.
For Power 5 football elites, the NCAA has been great for business—allowing the biggest schools to gobble up TV money, not pay players and expand their vast sports-industrial complexes.
But schools outside of the Power Five aren't finding the status quo as good a deal. Many of them, like Memphis, are desperately spending money on football, even if they're not traditional football schools, yet still falling behind as the giants consolidate power and money.
There's an incentive to challenge the NCAA and assert their own individual institutional prerogatives, as Memphis has. And that could create a ripple effect far beyond Nocera's hoped-for end to NCAA harassment. At what point do the non-Power 5 schools decide NCAA membership isn't worth it, opt out, and create their own organization unconstrained by shamateurism?
You can read Johnson expand on his Wiseman take in the latest issue of Patrick Hruby's newsletter, Hreal Sports.
THE REAL VICTIM: SETH DAVIS
"It's just another day in college basketball, where all too often the best stories degenerate into big headlines for all the wrong reasons," whines college basketball reporter Seth Davis.
RETWEETABLES
CONTINUING ED
The College Athlete Advocacy Initiative, the organization founded by Intercollegiate contributor Tim Nevius, is hosting a discussion this week on Twitter and Instagram live, addressing health and safety issues for college athletes. Learn more here.

The Aspen Institute announced that will be hosting an event in Washington, D.C. on Dec. 17, titled, "Future of College Sports: Government's Role in Athlete Pay." Guests include Rep. Mark Walker, NCPA's Ramogi Huma, former University of Texas athletic administrator Donna Lopiano and Washington Post sports reporter Ben Strauss. Learn more here.
---
Daniel Libit and Luke Cyphers, coeditors of The Intercollegiate, write Newsletter of Intent each week. You can reach them with questions, comments, tips and formal reinstatement requests at dlibit@theintercollegiate.com and lcyphers@theintercollegiate.com.
Featured photo courtesy of The White House/Flickr
---

The Intercollegiate is proud to partner with the College Sport Research Institute, an academic center housed within the Department of Sport and Entertainment Management at the University of South Carolina. CSRI's mission is to encourage and support interdisciplinary and inter-university collaborative college-sport research, serve as a research consortium for college-sport researchers from across the United States, and disseminate college-sport research results to academics, college-sport practitioners and the general public. You can learn more by visiting CSRI's website.