Tom McMillen's 'Dark Side' Shuffle
Plus: Ted Tatos digs back into UNC and Memphis's hero president proves himself a mere mortal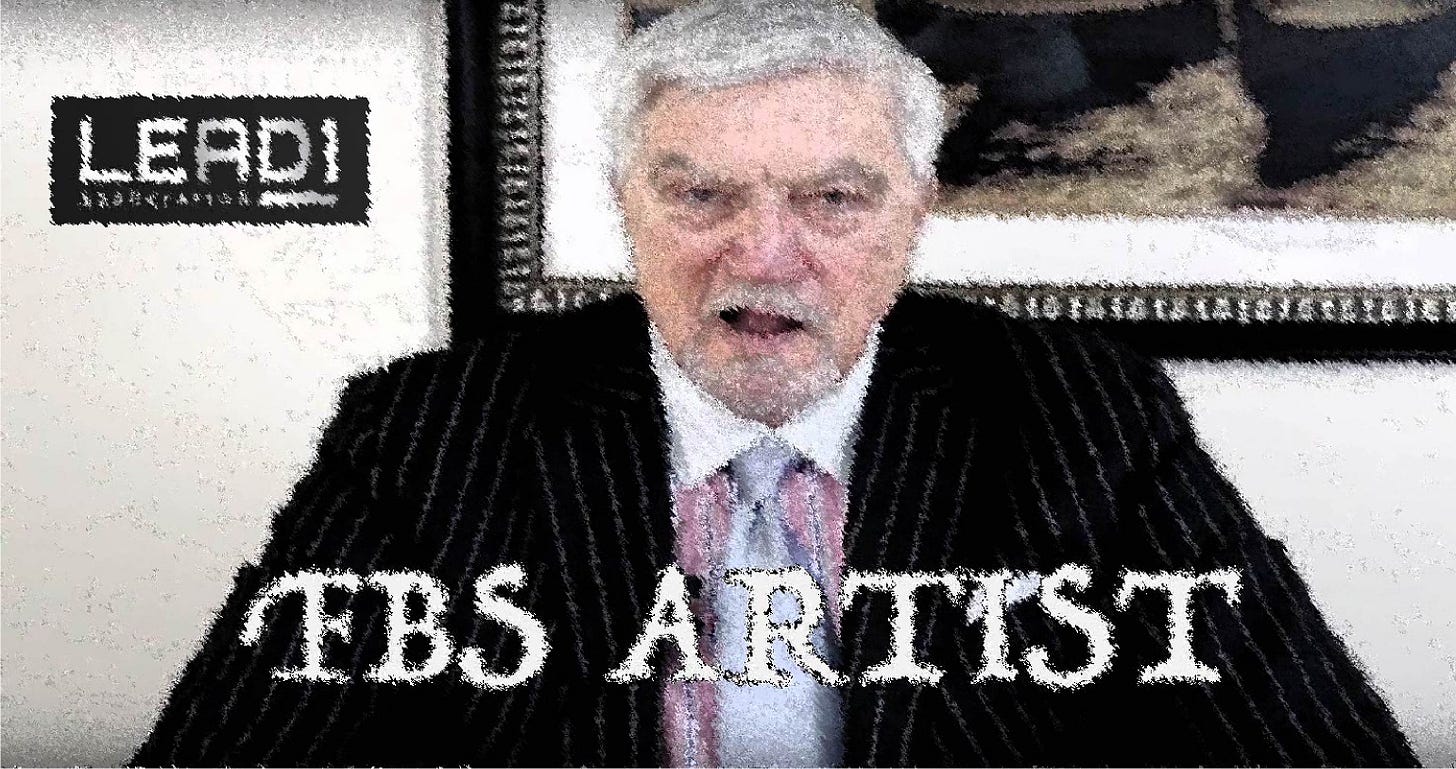 ---
This is Newsletter of Intent, a free weekly emailed dispatch from The Intercollegiate. To learn more about us visit www.theintercollegiate.com.
Subscribe to the weekly Intercollegiate Podcast.

Scroll to the end to learn about our creative partner, the College Sport Research Institute.
Ready to commit to your college sports education?
---
By Daniel Libit and Luke Cyphers
Donna Lopiano and Dave Ridpath, the outgoing and incoming presidents of The Drake Group, the college sports reform organization, were walking out of the Washington, D.C., office of Sen. Chris Murphy in September when they spotted a familiar lofty presence.
Standing there in the hallway was former basketball player and one-time Rep. Tom McMillen, all six-feet-eleven of him, waiting for his chance to meet with the senator next. In McMillen's hand was a copy of the book he co-authored in 1992, "Out of Bounds: How the American Sport Establishment is Being Driven by Greed and Hypocrisy—and What Needs to be Done about it." ("An activist observer with impeccable credentials," was how Kirkus Review described McMillen.)
Lopiano, a former University of Texas athletics administrator who has known McMillen for four decades, sidled up to her old friend and asked, half-jokingly: "When did you go to the dark side?"
Lopiano is not the only college sports reform advocate wondering what happened to the man they considered to be a strong ally of the movement.
But four years ago, McMillen seemingly abandoned this legacy when he accepted a cushy job representing the intercollegiate athletics executive class.
In 2015, McMillen became President and CEO of 1A Athletic Directors' Association, a trade group advocating for the ADs of the 130 Football Bowl Subdivision universities. Since rechristened as LEAD1 and relocated to suburban D.C., it's about as establishment as you can get.
"I was very surprised," says Lopiano. "The FBS athletic directors are not going to be on the side of any reform agenda, because, number one, they have the majority vote on [the NCAA] Board of Governors and are going to want to continue to have the bulk of the NCAA's resources."
McMillen insists his reformist soul was not brokered as part of his current position, which pays him a base salary of $400,000 plus bonuses (an extra $75,000 last year, he says) to represent the interests of the country's highest-paid college athletic directors. The current system, for all its flaws, has buttered their baguettes quite sumptuously.
Ridpath says LEAD1's mission is simple: entrenchment. "They want to control college athletics so it doesn't upset their applecart," he says.
Not long after McMillen took the helm, the trade association signaled it would turn its attention to his old Capitol Hill stomping grounds.
In late 2016, LEAD1 announced the formation of an eponymous political action committee. But since that announcement, the group has made scarcely a peep about its campaign finance initiative nor filed any paperwork with the Federal Election Commission. In an interview last week with Newsletter of Intent, McMillen, for the first time publicly, confirmed that LEAD1 PAC is a no-go.
McMillen claims the PAC plan was merely a "trial balloon," even though LEAD1 put out a rather definitive press release at the time. While McMillen didn't say what specifically aborted the effort, he indicated that other college sports stakeholders might have balked.
"That was a pretty big play," he says, "and the way the NCAA is set up, they have a small lobbying shop that they rely on. That is kind of their turf and why we backed away from it, because that is how college sports is organized, that is how higher education is structured … The government stuff is being handled by the schools."
Noting that he is not registered as a federal lobbyist, McMillen pooh-poohs the notion that he or LEAD1 has any particular Beltway prerogative. His Twitter account suggests otherwise.
"I run into friends," McMillen demurs. "I am up on the Hill. I work out in the gym up there. I run into members. They talk to me, but I don't really have any agenda that I go up there for."
Ridpath isn't buying it.
"How convenient that he showed up [last September] when we were there," says Ridpath, whose organization has been lobbying Congress to support college athlete NIL legislation and a presidential commission on intercollegiate athletics reform. "I don't think it was an accident he showed up there to exchange pleasantries with Chris Murphy."
But that's what McMillen insists, more or less.
"I have known Sen. Murphy for years and I have probably known half the Congress, and his staffer and I were going back and forth on issues, and we had just a very generic discussion about the big picture of higher ed," he says. "It was interesting to hear his side. I had no particular agenda."
Nor, he says, do the ADs he works for.
Tom McMillen's agenda used to be clear: reforming college sports. "I read 'Out of Bounds' and I saw him as somebody who gets it and has some power and leverage," Ridpath says. "So, from the outside, he was someone who I looked up to and admired."
Indeed, McMillen was seen as a shining example of all that's right with competitive sports from an early age, appearing on the cover of Sports Illustrated in 1970 under the heading, "The Best High School Player in America." He went on to star at Maryland on perhaps the greatest college team never to play in an NCAA Final Four, played for the U.S. in the 1972 Olympics, attended Oxford on a Rhodes Scholarship (and simultaneously played professionally in Europe, earning a paycheck while going to school) and had an 11-year NBA career.
Right after he retired from basketball, he ran for Congress in Maryland and won in 1986, becoming a prominent voice in Congressional debates about college sports in the 1980s and '90s, serving on the Knight Commission and sponsoring a bill titled the Collegiate Athletics Reform Act in 1991.
But he lost his seat the following year after redistricting forced him to run against another incumbent, Republican Wayne Gilchrest, whom the Sierra Club endorsed.
After Congress, McMillen co-chaired the President's Council on Physical Fitness under Bill Clinton; had a seat on the University of Maryland Board of Regents, where he voted against his alma mater's move to the Big Ten; and was a regular TV talking head on college sports reform efforts. But he also had a history of troubled business pursuits and, more recently, was part of a commission investigating the death of Maryland football player Jordan McNair, which drew criticism over its billing practices.
Nowadays, to ask McMillen about his college sports advocacy work is to encounter a fog of platitudes and buzzphrases that barely elucidate the vague mission statement on LEAD1's tax disclosure form: "To sponsor college athletics on a national level serving the group's information and community."
Whatever that means. Here's what's certain:
The group's most recent publicly available Form 990 shows LEAD1 brought in $1.3 million in 2017, primarily from member dues, a third of which went to the boss's bank account.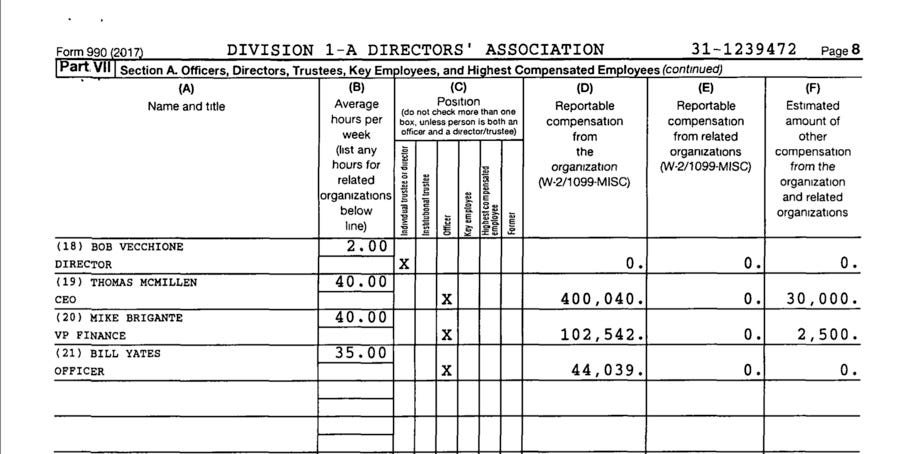 LEAD1 has seen a spike in revenue since McMillen was hired, but he says that owes to a change in its membership model. Member institutions now pony up based on the annual revenues of their athletic departments. According to a knowledgeable source, this is how the tiered dues model breaks down:
$15,000 for athletic departments with more than $100 million of revenue

$10,000 for athletic departments between $50 and $100 million

$5,000 for athletic departments with less than $50 million
McMillen's group describes itself as "student-centric", even as it reliably campaigns against initiatives that might give students who play sports a greater slice of the revenue pie. Indeed, one of the clear tendencies of LEAD1 has been to downplay the growing national concern that college athletes are financially exploited — and should be entitled to fully participate in the same market economy that enriches him and his AD constituents.
In a 2017 interview with Learfield's Executive Vice President Roger Gardner — Learfield/IMG College being a LEAD1 sponsor and one of college sports' biggest corporate stakeholders — McMillen pointedly recalled that in his playing days, athletes "weren't chartered around the country in private planes." He elided this observation — again, to a Learfield exec— with a general concern about how the flood of money in college sports was damaging the school-play "balance" of the college athlete.
Last April, in one of his weekly "Byte of the Week" videos, McMillen said that in polling its 130 FBS athletic directors, LEAD1 found only 26 percent in support of college athletes having the right to make money off their name, image and likeness for "athletically-related pursuits."
McMillen proposed a national clearinghouse that could negotiate endorsement deals on behalf of all college athletes.
"Taking this step to help elite student athletes…might help reduce the ever-growing pressure to pay student-athletes," he argued.
In a message posted on LEAD1's website this May, McMillen suggested that even if California was to pass college athlete endorsement rights legislation, there would still be a chance to upend it.
"The good news is that the bill, if passed, doesn't go into effect till 2023," he wrote. "This provides time to defeat the legislation in the Assembly and prepare a response if it does pass."
Lopiano thinks McMillen and his cohorts have been "miscalculating" on this front.
"He is not going to stop the NIL because the NIL has gone too far in the states," she says. "Their role is to have whatever done to be minimally intrusive, and the game they play is: All right, let these guys get the spotlight and do a bill, but have the bill be as non-restrictive as it can be."
Meanwhile, McMillen has been trying to beat back the growing national concern over college athlete rights.
In a "Byte of the Week" video two months later, McMillen attempted to counter this "prevailing perception" of exploitation with the sophistical claim that, "collectively, on an after tax-basis, student-athletes fare better than either the administrators or coaches."
Of course, that equation only works if you add up the book values of grants-in-aid for all 500,000 college athletes, and compare it to the aggregate compensations of the significantly fewer administrators and coaches.
Confronted about this lunker of a red herring, McMillen simply shrugs. "There are facts out there that are interesting that you may not agree with," he tells NOI.
When pressed about college sports' real financial beneficiaries (his peeps), McMillen pivots to a conversation about the athletes in non-revenue sports. 
"The problem for the general public is most people look at college sports through lens of basketball and football," says the representative of a faction explicitly defined by their high-level football programs.
To make his point, McMillen reads from a letter he says he received from one of his athletic directors, extolling the "broad-based opportunities" provided to so many of his athletes.
"That is their biggest thrill of their job," McMillen says.
That is the biggest thrill?
"You are focusing on the money," McMillen chides. "I can tell you, intrinsically, the job happiness they get out of their job is all these kids receiving broad-based opportunities. And the press doesn't give it any coverage, and it's kind of unfortunate."
When asked about what Lopiano said outside Murphy's office, about him joining the "dark side," McMillen initially brushed it off: "I am not sure exactly what she was meaning," he told us. But clearly he did and, after some back and forth, he attempted to make the case that he is still "able to continue my reformer's role" from his present half-million-dollar-per-year perch. "I also believe that my experience working outside the system for years helps me to navigate within the system today," he says.
By McMillen's telling, the "arteriosclerosis in the system," which sees athletic directors signing off on college coaching contracts with Goldman Sachs-style buyouts, owes not to the blue bloods he represents but to a crossed-wire cabal of powerful agents, overzealous alumni and cowed university presidents. FBS athletic directors, McMillen says, have been reluctantly forced into a no-win situation, which just happens to yield some of them $18 million contract extensions.
"I would say a vast majority of these AD's recognize … there is an arms race that is not sustainable," McMillen says. "My role is try to pull our best thinkers on ideas that make college sports better. I don't think that is anti-reform."
One of the problems with Tom McMillen making this argument is that few have argued more forcefully and convincingly about college sports' inherent incapability to reform from within than…Tom McMillen.
"The main thrust of reform to college athletics has often come from outside the traditional athletic system," then Rep. McMillen said in 1991, during the House subcommittee meeting during which he introduced H.R. 3406.
The legislation offered a tradeoff to the NCAA — a temporary antitrust exemption to renegotiate TV rights— in exchange for more equal distribution of revenue among all its institutions, greater due process rights for athletes facing NCAA sanctions and guaranteed athletic scholarships, and more generally, greater federal oversight of college sports.
Addressing Congress nearly three decades ago, McMillen spoke about athletes getting short-changed in a system where money oozes all over the place.
"While students are prohibited from receiving a small stipend to cover normal living expenses, NCAA staff fly in a private jet around the nation setting up billion-dollar television contracts," he said, adding, "There are those who believe that Congress has no place for tinkering with the system of intercollegiate athletics. Yet, let's not forget that the NCAA is often in the halls on Capitol Hill, seeking legislative help on a variety of issues."
Fast-forward to today, and McMillen is now just another one of those standing in the halls of Capitol Hill, representing a powerful interest in the face of real reform efforts. And so — like an NCAA® Official Game Basketball — the revolving door spins once more.
TATOS DIGS BACK INTO THE UNC DOCS
Fresh off his rattling critique of the University of North Carolina's acclaimed football concussion research, economist (and reputed Duke alumnus) Ted Tatos has returned to his trusty terrain for a forthcoming article examining one of The Intercollegiate's pet interests: college athlete exit interviews.
"This is a documentary investigation into the mistreatment of college athletes," Tatos tells NOI. "The focus will be on UNC exit interviews, but it talks about other schools, as well."
Tatos says that as part of his investigation, he has found a pattern of "very disturbing information" relayed in athlete exit interviews being sequestered by a "group of individuals" in the athletic department.
UNC, which has garnered a disclosure-adverse reputation over the years, particularly when it comes to its athletic department, agreed only to provide us a blank copy of the survey they used upon our request for all documents related to last year's athlete exit interviews.
"It should be clear why they are so careful about not wanting this stuff revealed," he says.
In recent years, Tatos has previewed on Twitter some of the things he has gleaned while culling through internal UNC memos related to athlete exit interviews.
"The incredible thing about these documents is it really lays open how an athletic department works at a major university and the ties between the athletic department and the university itself," says Tatos. "The thing to keep in mind is these aren't just UNC documents — these are emails and documents from a large number of schools and institutions, if they communicated [with UNC]."
A UNC spokesperson declined to comment.
As we noted last week, in a paper published in July, Tatos and his research partner Don Comrie questioned whether UNC had failed to properly account for the rates of ADHD among its football-playing test subjects. Last month, The Athletic featured their findings in a multi-media series, prompting a groundswell of calls — from academics and reform advocates — for independent investigations and the public release of additional raw data.
Pushing back, a group of 100 sports injury researchers wrote a letter to the university's leadership last month, defending the school's heretofore world-renowned Matthew Gfeller Sport-Related Traumatic Brain Injury Research Center and its practices. As The Daily Tar Heel reported, the letter attempted to turn the tables on Tatos and Comrie, questioning their academic bona fides and the credibility of the journal they published their findings in. On Monday, the center's co-director, Jason Mihalik, wrote an op-ed in the Raleigh News & Observer, reiterating the main thrust of the letter.
Meanwhile, some media outlets and pro-UNC fan sites have tried to make hay out of the fact that Tatos is a Duke graduate who previously (and pseudonymously) tweeted criticisms about North Carolina's athletic department over its academic fraud scandal.
That scandal ultimately led to the university, in 2017, to publicly release two million pages of athletic department-related materials, which Tatos has now spent years combing through.
Peter Duquette, a UNC assistant professor of psychiatry, who co-signed the letter criticizing Tatos's and Comrie's concussion paper, similarly raised the specter of Blue Devil bias in an interview with The Daily Tar Heel last week.
"I'm not familiar with any previous postings or other negative commentary from that individual in the past, but when that was brought to my attention, it, for me, certainly raised a red flag," Duquette told the student paper.
(Duquette did not respond to an email seeking elaboration on his quote.)
"I could be a Blue Devil mascot and it doesn't change the fact of our results in the slightest," says Tatos. "I don't think that has any relevance, ever. But it is easy for people to say, 'He's a Duke fan, he hates UNC.' But the idea I would have spent years researching this, just because I have some bone to pick with UNC athletics is really quite idiotic."
Tatos, the director of empirical analytics at the University of Utah, attempted to refute the more substantive criticisms coming from UNC's TBI Center in a 12-page response he posted online.
In any case, he is once more unto the breach, having already submitted his exit-interview article to the Texas Review of Entertainment and Sports Law. Tatos says he expects it to be published "soon."
MEMPHIS'S PAPER TIGER
Last week, we wrote of the hopes among NCAA critics that the James Wiseman eligibility kerfuffle at Memphis could mark a turning point in the amateurism wars. Attorney Richard Johnson and journalist Joe Nocera both tweeted praise for Memphis President M. David Rudd in creating a showdown with the NCAA by keeping Wiseman on the court even after he was ruled ineligible.
But less than a week later, Memphis effectively caved, with the school sitting Wiseman out of games and the player dropping a state-court lawsuit seeking a temporary restraining order against the NCAA. Memphis has since filed a formal appeal for reinstatement through the NCAA, as these things usually go.
It's a good reminder for how unlikely it is that college sports will be reformed from within the executive suite (op. cit.). While Rudd and his school's athletic department tried to play the part of intrepid athlete defender, for a few days at least, we should have probably seen this coming.
Perhaps you'll recall the recent saga involving U of M's women's basketball coach Melissa McFerrin, who was accused by several of her players in exit interviews of verbal abuse, making racist comments and striking a player during a game.
One of her former players, Jasmine James, subsequently took to Twitter on May 15 to air her complaints publicly.
The university hired outside investigators last spring and informed the coach about the probe in April. A few days after that, however, President Rudd signed McFerrin, just off a 11-20 season, to a two-year contract extension, for reasons that the university still has yet to make sense of.
All of this would have likely been kept secret, if not for the excellent digging of the Memphis Commercial Appeal, which brought to light the slate of allegations against McFerrin and forced Memphis to confirm the outside investigation. That investigation found clear evidence of "a negative culture and atmosphere surrounding the program," but didn't recommend McFerrin's firing, which didn't make much sense on its face.
However, as is often the case, outside investigators hired by universities tend to make recommendations that accede to the university's overall game plan.
"The health and well-being of our student-athletes is our highest priority," said Rudd at the time, as university officials invariably say in these circumstances.
Anyway, McFerrin is still coaching, Wiseman is still sidelined, God is in heaven and all's right with the status quo.
THE SPORTS INFORMATION DEFECTOR
As a nod to CoSIDA's annual membership recognition campaign (#ThankYourSID) earlier this month, Daniel talks with former/reformed sports information director Chris Yandle on this week's episode of The Intercollegiate Podcast. Yandle discusses his time spent doing athletics communications work at Baylor, Miami and Georgia Tech, and why he has since become a vocal critic of college sports.
THANKSGIVING BREAK
NOI will be taking next week off, returning to your inbox on Dec. 3. We wish you a happy holiday and hope your favorite college football team's coach has racked up several triggered bonuses by then.
---
Daniel Libit and Luke Cyphers, coeditors of The Intercollegiate, write Newsletter of Intent each week. You can reach them with questions, comments, tips and sophistical claims at dlibit@theintercollegiate.com and lcyphers@theintercollegiate.com.
Featured photo illustration by Newsletter of Intent
---

The Intercollegiate is proud to partner with the College Sport Research Institute, an academic center housed within the Department of Sport and Entertainment Management at the University of South Carolina. CSRI's mission is to encourage and support interdisciplinary and inter-university collaborative college-sport research, serve as a research consortium for college-sport researchers from across the United States, and disseminate college-sport research results to academics, college-sport practitioners and the general public. You can learn more by visiting CSRI's website.